Image: ESPN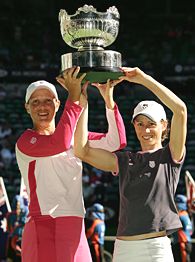 USANA Health Sciences, Inc. (NASDAQ: USNA), the official health supplement supplier of the Sony Ericsson WTA Tour, would like to congratulate the 2007 Wimbledon Women's Doubles Champions.
-- Ladies Doubles - Cara Black (ZIM) & Liezel Huber (RSA) --
Wimbledon, the oldest major championship in tennis, is commonly regarded as the most prestigious international tennis competition.
In late 2006, USANA announced its partnership with the Sony Ericsson WTA Tour, introducing USANA's unmatched nutritional products to 400 of the world's most elite athletes in women's tennis.
"Tennis is an extremely rigorous sport and very demanding on the body," said South African native and ladies doubles champion Liezel Huber.
"Since taking USANA products, I have truly experienced a noticeable difference in my health. I firmly believe that USANA's world-class nutritional supplements played a major role in my performance at Wimbledon 2007."
For more information about the Sony Ericsson WTA Tour, please visit
http://www.sonyericssonwtatour.com/
.